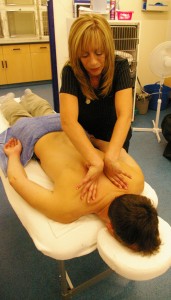 Swedish body massage is one of the most common types of massage used in the western world. This ancient treatment is administered while the female or male client is lying on the massage table. For clients with mobility issues a seated massage can be provided. Clothing is removed and towels cover the body areas not being treated. The client's underwear remains in place but pants or thongs are better for the buttock area to be treated than boxers or shorts being worn.

It is been clinically proved to be good for you so why not treat yourself to the benefits.

How it works; as the muscles are manipulated this helps improve the circulation and assists lymph drainage, this in turn helps to stimulate your bodies detox process. Swedish Body Massage offered at Curative Therapy aims to provide all over feeling of well-being and a reduction or elimination of muscular aches and tension.
Please telephone me for a free consultation or to make a booking, we will be happy to advise you. Please allow extra time for your first consultation.

LandLine: 01304 617 500 or Mobile: 07890 543 194