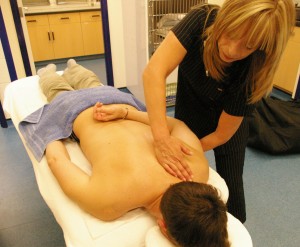 Anyone can receive a Sports Therapy Massage. Its main uses are to speed up the recovery of minor injuries or to help prevent injuries occurring. The difference between Sports Massage and other massage treatments offered by Curative Therapy are; the routine is concentrated on specific muscle groups and is more intense with firmer pressure.

For any undiagnosed pain, injury or swelling, medical attention must be sought prior to a Sports Therapy Massage. It is not the therapist's job to diagnose but to refer clients to an appropriate Health Care Professional.

A consultation is carried out with every new client to enable your therapist to be aware of any medical condition, medication or any on-going treatment. For clients with sensitive medical conditions, G.P. approval maybe required before treatment can commence.
Please telephone me for a free consultation or to make a booking, we will be happy to advise you. Please allow extra time for your first consultation.

LandLine: 01304 617 500 or Mobile: 07890 543 194