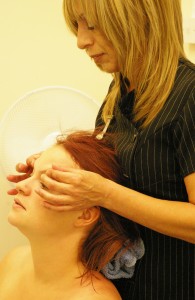 Indian Head Massagen has been practised in India for over 5000 years. Known originally as 'Champissage' or 'Champi', which is where the western term 'Shampoo' comes from. Passed through the generations, Indian Head Massage would usually be practised by women, mothers and daughters as I.H.M. is believed to have many health benefits.

The Indian Head Massage treatment relaxes the mind and in turn the body can begin to heal itself. So not only will your skin and hair feel conditioned but Indian Head Massage can help reduce stress and fatigue, relieve accumulated tension and can be used as a preventive health care.

The Indian Head Massage techniques are based on Ayurvedic style, applied to the upper back, shoulders, tops of arms, neck, head and face while seated on a chair with a towel in-place as top clothing needs to be removed for treatment effectiveness.

Indian Head Massage also works the subtle energy centres, known as 'Chakras'. The Chakras are linked to our Endocrine System which governs the secretion of hormones with in our bodies. The Chakras are also linked to our inner being. Through I.H.M. the upper Chakras are worked to aid the effectiveness of the treatment, this helps clear any blockages and helps increase the energy flow to stimulate the body to heal itself.
Please telephone me for a free consultation or to make a booking, we will be happy to advise you. Please allow extra time for your first consultation.

LandLine: 01304 617 500 or Mobile: 07890 543 194